Published in the category, Conspiracy Chronicles on the first generation Federal Observer, January 28 2002.
NOTE: It is nearly nineteen years since the publication of the following article and we are entering a similar phase with the Covid-19 Vaccine. In addition – how many of the firms mentioned below have been merged into others, or simply disappeared? Does anything ever REALLY change? ~ Ed., October 11, 2020
"Follow the Yellow Brick road, follow the yellow brick road – because, because, because, because, because – you'll find the Wizard if ever there was – a Wonderful Wizard of Oz!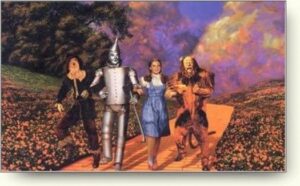 It appears that Bioport, the sole manufacturer of anthrax vaccine in the U.S., has cleared the first of three hurdles toward resuming shipments of its vaccine. The Food and Drug Administration (FDA) has announced approval of Bioport's revamped production facilities.
The FDA has not allowed shipments of the vaccine by Bioport since 1998 when it bought the laboratory from the State of Michigan. The FDA found numerous problems in Bioport's production facilities including contamination, fluctuations in potency, inadequate record keeping, mislabeling of product, and intractable problems in the bottling of the product.
At the suggestion of the FDA, when it became apparent Bioport"s bottling process would not be approved, Bioport (in early 2001) entered into a contract with Hollister-Stier Laboratories (HSL) of Spokane, Washington to bottle the vaccine.
Hollister-Stier claims to be the world"s largest producer of medicines for allergies holding a 20% market share of those products.
There evidently was a prior association between the two companies. In the fall of 2000 the FDA (in a single communication) announced the revocation of the licenses of Bioport and Hollister-Stier to manufacture "Polyvalent Bacterial Vaccines" (at Hollister-Stier) and specific vaccines at Bioport for pertussis (generally known as whooping cough), diphtheria and tetanus which fall into the Polyvalent Bacterial Vaccine category.
The FDA has a curious procedure where it notifies a company of intent to revoke a license and then allows the company to request the revocation thus letting the company claim surrendering of the license was voluntary. This procedure was followed with both companies.
Before the anthrax vaccine can be shipped, Hollister-Stier must also receive FDA approval for its operation and the vaccine must be tested and pass FDA scrutiny for purity, potency and sterility.
The company was founded in 1921 by chemist Guy Hollister and Robert E. Stier, M.D., partly as a result of the two developing a vaccine for Mrs. Hollister's "summer cold" which they discovered was an allergy to grasses in the area. The company prospered and became a major force in allergy research and treatment.
In 1958 Cutter Laboratories bought the company, which in turn was absorbed by the German pharmaceutical giant Bayer AG in 1974. For the next twenty-five years the company operated as part of Bayer.
Bayer is the manufacturer of the drug Cipro, which until October of last year was the only drug recommended by the Center for Disease Control (CDC) for the treatment of anthrax. Bayer has made millions of dollars on the drug, partly because it was paying five makers of generic equivalents 25 to 30 million dollars each per year to not ask for FDA approval.
In June of 1999 Hollister-Stier was cut loose from Bayer and once again became an independent company, so their website says. During the next year, $7.5 million was spent upgrading the facility.
So who controls Hollister-Stier? If you subscribe to the second golden rule, (he who has the gold makes the rules) you need to know from what source the company gets it funding. That's not an easy task.
In June of 2000, Hollister-Stier formalized a "strategic alliance" with Biogenetic Ventures, Inc. a newly formed Spokane-based company that invests in the development and commercialization of emerging scientific research. Under the agreement, Biogenetic Ventures will provide funding for research and product development, plus expertise to license and acquire intellectual property. Hollister-Stier will secure regulatory approvals, e.g. from the FDA and provide for the manufacture, marketing and distribution of new products.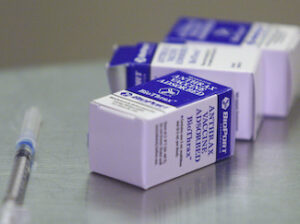 Evidently, although not disclosed in the announcement, Biogenetic Ventures will own the technology on new products and either license it back to or share royalties with Hollister-Stier as it does in another strategic alliance announced at the same time (the third in three months).
Biogenetic Ventures was founded two years ago by Peter Allison specifically to provide venture capital for high-tech and biotech firms. Allison says he has developed extensive relationships with venture capital firms in all of the high-tech corridors of the United States through a company he claims to have founded named Buffalo Capital. (More about this company later.)
But Biogenetic Ventures evidently does not provide the money itself. It funnels all prospects through another company founded by Allison, Allison Johnson Venture Partners, Inc. (AJVP). This company is a partnership between Allison and Ron Johnson, a former staff accountant with Lockheed Corp. who founded the Silicon Valley Consulting Group in 1991 and sits on the boards of several high-tech companies and universities.
The Allison/Johnson partnership describes its mission on its website, "AJVP maintains a comprehensive inventory of investors, including high net worth individuals, venture funds, institutional investors and corporate partners who actively seek investing opportunities. When our client companies are properly prepared and positioned, we reach into this community to raise the financing required to realize the objectives of the corporation."
Also on its website is a description of a comprehensive seven-step screening process to which it subjects potential clients seeking funding. It is not known if Biogenetic Ventures is the only company referring potential clients to AJVP.
At this point the money trail reaches a dead end. It is not known what mechanism is used to funnel funds to clients through AJVP and its affiliates. Other than Allison"s reference to Buffalo Capital, no "investors" are identified.
Even the involvement of Buffalo Capital is questionable. An extensive search of databases with several search engines failed to turn up any association of Allison's name with Buffalo Capital other than the one on his website and stories based on that information. Oh, there are plenty of references to Buffalo Capital, most of them dealing with enforcement actions against the company.
According to the information available on the Internet including court records and news accounts, Buffalo Capital was founded by John Hampton Hickman III. The mysterious Hickman was described in the venerable Marquis Who"s Who as, "an entrepreneurial industrialist, investment banker and educator. Buffalo Capital Corp. was called his personal holding company.
Buffalo Capital's investments were, as described by Allison, in high-tech and biotech companies. Hickman had numerous subsidiaries including seven named Buffalo Capital I through VII.
In 1994 Hickman appeared in Vancouver, British Columbia and proceeded to ingratiate himself into the social elite controlling the Vancouver Stock Exchange (VSE). He managed to get himself appointed as Chairman of a struggling software firm, Motion Works, by promising to raise $10 million to keep the firm afloat. When he proceeded to hire friends and relatives at handsome salaries and awarded himself a large salary and stock options, several directors petitioned the VSE to investigate Hickman.
The VSE, which was rife with corruption at that time, took no action until it received anonymously information on a scam Hickman had pulled in the United States.
There is a fascinating story about the VSE corruption including Mafia involvement in drug transactions, money laundering, securities fraud, murder and suicide in connection with the stock exchange. It [was at the time] located in the May edition of ROB Magazine [Now defunct] October 11, 2020 ~ Ed.
In the United States Hickman, who was a trustee of a Florida utility's pension fund, had transferred over $700,000 out of the pension fund into his Buffalo Capital Corporation. A bankruptcy judge had lodged a judgment for $3.8 million (the amount embezzled plus triple damages) against Hickman, three of his Buffalo Capital companies and four trusts in Hickman's name.
When this information surfaced in Vancouver, Hickman and his family employees resigned from Motion Works. The creditor under the bankruptcy judgment obtained an injunction freezing Hickman's assets in both the U.S. and Canada.
Although Hickman had not contested the bankruptcy award, he chose to fight against the freeze of his assets. He was scheduled to give a deposition detailing his assets and their locations but before that could take place, he was found dead in his car in the garage, apparently a suicide from carbon monoxide poisoning.
In May of 1999, the same month that Peter Allison incorporated Biogenetic Ventures in Washington State, Buffalo Capital changed its name to M&A West Inc. (MAWI). It obtained listing in the over the counter exchange (OTC) and on the Boston Stock Exchange.
However the name change did little to stem the company's troubles. After losing a couple of trademark infringement suits, the investing community was stunned when the SEC charged MAWI with providing false and fraudulent financial statements to obtain listing on the exchanges. MAWI was delisted from the Boston exchange and had to restate its earnings for several accounting periods.
In January 2001 the CEO and CFO of MAWI resigned. Patrick R. Greene was named interim CEO. Greene has had his own problems. An online publishing company (PinkMonkey.com) Greene founded was accused by the SEC of issuing a fraudulent press release that caused PinkMonkey's common stock to rise 950%. Greene agreed to pay a $20,000 penalty.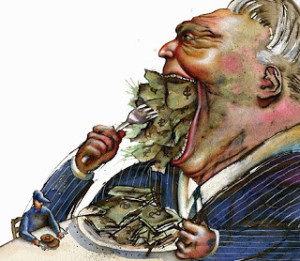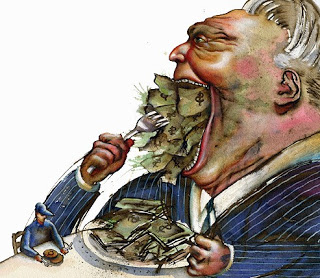 Perhaps the death knell sounded for MAWI nee Buffalo Capital in August of last year when a Northern California grand jury returned an 82 count criminal indictment against two principals in a MAWI subsidiary. The pair is accused of running a classic "pump and dump" scam involving false press releases and financial statements to hype various stocks. The scam involved MAWI and two subsidiaries, Virtual Lender.com and Digital Bridge, Inc. The indictment alleges the pair, and others, netted over $15 million from the scam while investors lost more than $100 million.
But what does all of this have to do with the bottler of the anthrax vaccine, Hollister Stier? Perhaps nothing. There is no evidence, other than Peter Allison"s claims that he has had anything to do with a company named Buffalo Capital Corp. However, given the sordid reputation of Buffalo Capital, it beggars belief that Allison would choose to associate himself with that name unless he was involved.
At any rate, Hollister Stier is receiving money from an unknown investor or investors unless Allison chooses to reveal the identities. That comes pretty close to the definition of money laundering.
Jim Rarey – for Medium Rare
The author is a free lance writer based in Romulus, Michigan. He is a former newspaper editor and investigative reporter, a retired customs administrator and accountant, and a student of history and the U.S. Constitution.