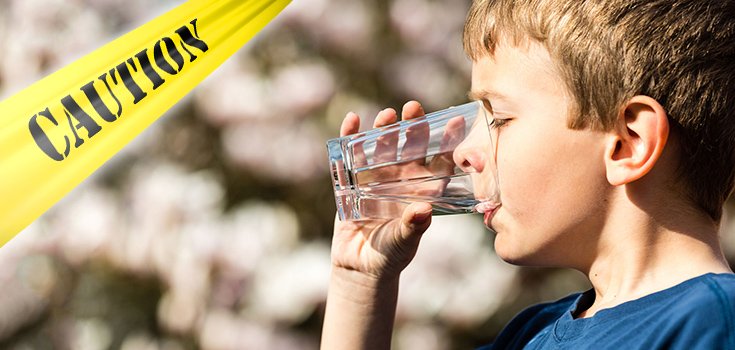 Here's something you may not know: tens of millions of people in the United States have been drinking toxic tap water contaminated with unregulated fluoridated chemicals – chemicals which have been linked to cancer, liver and kidney toxicity, hormone disruption, and more…
In early 2018, the Environmental Working Group released a report revealing that up to 16 million Americans could be exposed to water contaminated with perfluoroalkyl substances (PFAS) – a class of toxic chemicals that includes perfluorooctanoic acid (PFOA) and perfluorooctane sulfonate (PFOS). The report showed that there is known PFAS pollution from '94 sites in 22 states, including industrial plants and dumps, military air bases, civilian airports and fire training sites' – including the tap water pollution for 16 million people across 33 states and Puerto Rico.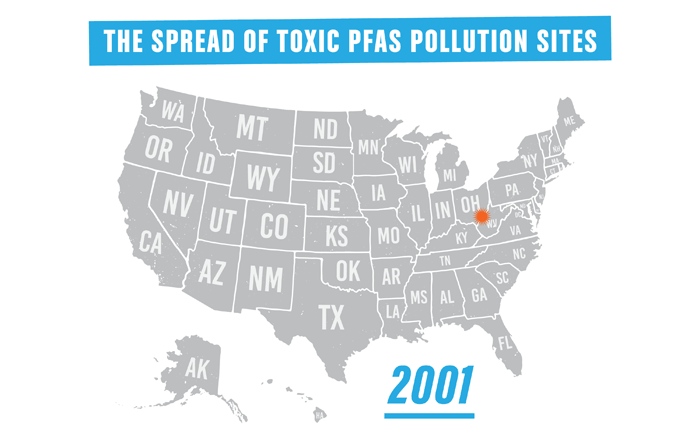 Interestingly, that report was just the start of it. Soon, that 16 million figured got bumped up to 110 million! That's right, 110 million people could be exposed via more than 1,500 drinking water systems throughout the United States.
Now, a new extensive report from the EWG goes into depth on the true nature of this widespread water contamination.
Current data suggests that PFAS are present in tap water in 44 locations spanning 31 states and Washington D.C. These stats are miles ahead of previous findings, showing that any reporting of PFAS contamination has been drastically underestimated, both by the Environmental Working Group's previous reports and even reports generated by official government bodies, such as the Environmental Protection Agency (EPA).
Actually, the EWG's research surpasses that of the EPA, finding more widespread contamination that even exceeds 'safe' levels set by the EPA. In 2016, the EPA released a non-enforceable 'lifetime health advisory' in drinking water of 70 parts per trillion (PPT), indicating that levels below 70 PPT were safe. However, by both EWG and other independent study standards, 'safe' levels for PFAS in drinking water should be more like 1 PPT – markedly lower than 70 PPT.
This soft, non-enforced rule has caused some states, including California, Connecticut, Massachusetts, Michigan, Minnesota, New Hampshire, New York, North Carolina, Vermont, and New Jersey to set their own standards. This is what states have to do when the EPA, knowing about this contamination issue since 2001, takes little action on addressing it.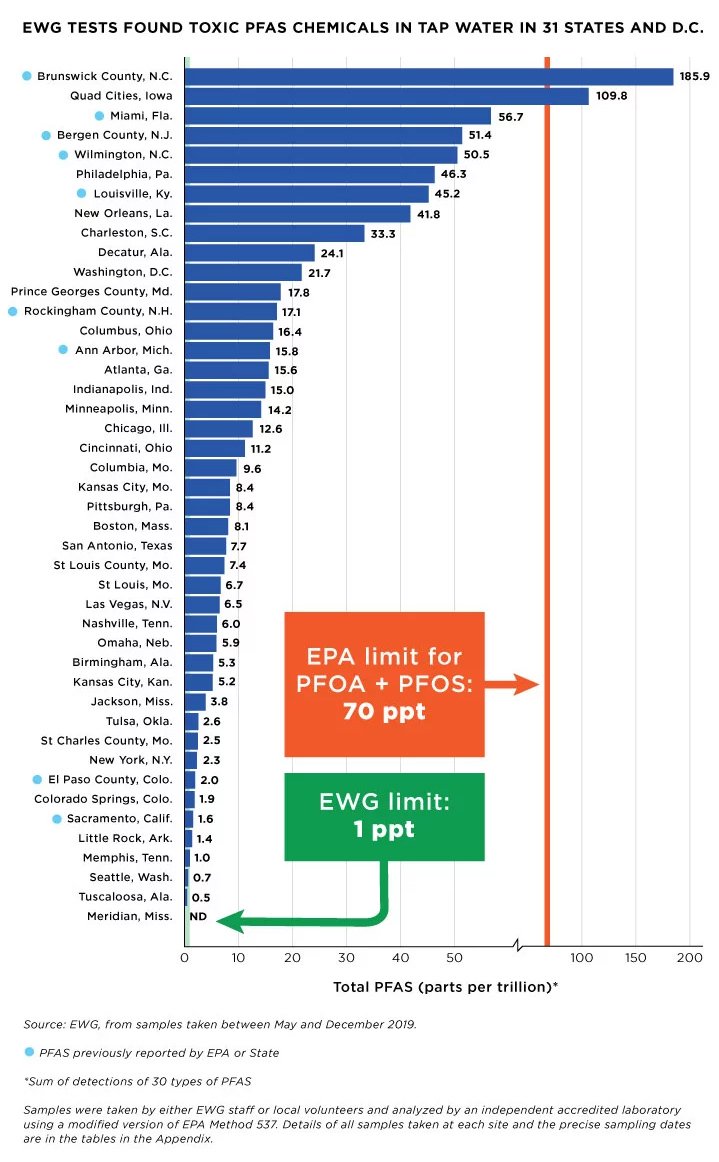 Why You Should Avoid These Chemicals Whenever Possible
Unlike other chemicals PFAS never actually break down once released into the environment, leading them to be dubbed 'forever chemicals.' As mentioned earlier, exposure to these chemicals may cause a host of health issues, including (but not limited to):
* Cancer
* Immune system suppression
* Thyroid issues and other hormone disruptions
* Infant developmental issues
* Liver damage
What Products Contain PFAS?
Many products are made with these compounds. They are most known for being used in the product of non-stick cookware (yikes), but are also used to make stain-resistant sofas and carpets, waterproof clothing and mattresses, and could even be in food packaging. What's more, due to their ability to help reduce friction, other industries including aerospace, automotive, building and construction, and electronics use these chemicals.
Here is a quick list of where you might find PFAS:
* Non-stick cookware
* Food packaging, such as microwave popcorn bags and fast food wrappers
* Stain resistant carpets and furniture
* Waterproof clothing
* Waterproof mattresses
* Outdoor gear with a "durable water repellent" coating
How to Reduce Exposure to PFAS
While others may say differently and it's great to avoid toxins whenever possible, I wouldn't go as far to live in a bubble or overly stress about this. If you did, you might literally go insane. With that said, here are some steps to take if you want to reduce exposure to PFAS:
* Most clear and simple in my book – don't use non-stick cookware. If you choose to continue using non-stick cookware, be careful not to let it heat to above 450ºF
* Stay away from fast food packaging (a good all-around tip) and microwaved popcorn
* Avoid stain-resistance carpets or furniture – and don't use anything yourself that would make it stain resistant!
* Avoid other stain-resistant products such as treated shoes, luggage, and camping and sporting equipment
* Avoid personal-care products made with Teflon™ or containing ingredients that include the words "fluoro" or "perfluoro." You might find this in floss or cosmetics
Written by Mike Barrett for the Natural Society ~ January 24, 2020
FAIR USE NOTICE: This site contains copyrighted material the use of which has not always been specifically authorized by the copyright owner. We are making such material available in our efforts to advance understanding of environmental, political, human rights, economic, democracy, scientific, and social justice issues, etc. We believe this constitutes a 'fair use' of any such copyrighted material as provided for in section 107 of the US Copyright Law. In accordance with Title 17 U. S. C. Section 107, the material on this site is distributed without profit to those who have expressed a prior interest in receiving the included information for research and educational purposes. For more information go to:

http://www.law.cornell.edu/uscode/17/107.shtml