The bacteria responsible for periodontitis, which can be killed through brushing teeth, play a role in pancreatic cancer.
Scientists claim it is the first evidence that the bacteria can spread from the mouth to other parts of the body and cause tumours.
It offers hope of a cheap way of screening for pancreatic cancer, which is known for being vicious and having low survival rates.
The findings, made by Finnish researchers, adds to the ever-growing list of cancers that are now linked to gum disease.
An array of research in recent years has repeatedly pointed to a strong link between the avoidable condition and breast cancer.
Several other scientific trials have shown it can increase the risk of lung, gallbladder and throat cancers, as well as melanoma.
What was the first study?
Helsinki University researchers used data from 70,000 adults to make their findings – considered to be the first of their kind.
They found a clear link between periodontitis and cancer mortality, with the biggest association recorded for the pancreatic form.
The study, led by Professor Timo Sorsa, was published in the International Journal of Cancer.
Periodontitis is the final stage of gum disease, which can be prevented early on by getting rid of plaque. It can lead to tooth loss.
Professor Sorsa said: 'These studies have demonstrated for the first time that the virulence factors of the central pathogenic bacteria underlying gum disease are able to spread from the mouth to other parts of the body.'
He said this is 'most likely in conjunction with the bacteria, and take part in central mechanisms of tissue destruction related to cancer'.
What was the second study?
While another study discovered bacteria that causes periodontitis, called Treponema denticola, may have an effect on the onset of cancer.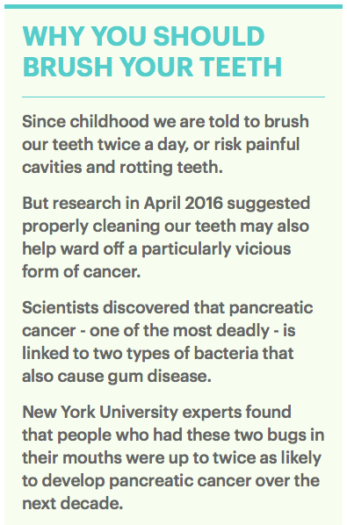 The researchers noted how an enzyme from the bug that allows it to multiply also exists in malignant tumours of the gastrointestinal tract.
This enzyme has the ability to help cancer cells invade healthy tissue and spread around the body – where it becomes deadlier.
It also diminishes the effectiveness of the immune system, which can help to find and kill cancerous cells in the body.
Those findings were published in the British Journal of Cancer.
Pancreatic cancer: The facts
Around 10,000 people are diagnosed with pancreatic cancer each year in the UK, but that figure is five times as high in the US.
Doctors call the disease 'a wolf in sheep's clothing' because the symptoms – back ache, jaundice and weight loss – are often mistaken for those of indigestion, acid reflux or back strain.
Symptoms are often vague in the early stages, leaving many to only seek medical advice when they have back pain or unexpectedly lose weight.
If the cancer is caught early enough for surgery, up to a quarter people will live for five years. Patients have a 9 per cent chance of surviving that long.
But if it has spread to nearby tissues, many don't make it past the six-month mark.
Survival can be as low as two months in its most advanced stages.
Leanne Reynolds, head of research at Pancreatic Cancer UK, said: 'Less than seven per cent of people diagnosed with pancreatic cancer will live beyond five years, and we still don't know enough about the causes of the disease, so research looking into this is vitally important.
'However, whilst the large study published in the International Journal of Cancer identified a potential link with periodontitis, we are not able to say for sure that it is a cause of pancreatic cancer, because we do not know whether participants were smokers.
'It's estimated that nearly one in three cases of pancreatic cancer are caused by smoking, so without knowing whether patients in the study were smokers or not, we can't be sure as to the cause of their pancreatic cancer.'
Written Stephen Matthews and published by The Daily MAil ~ January 17, 2018.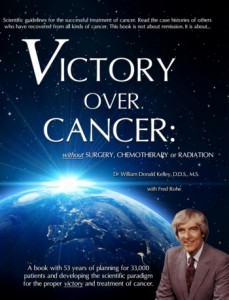 FAIR USE NOTICE: This site contains copyrighted material the use of which has not always been specifically authorized by the copyright owner. We are making such material available in our efforts to advance understanding of environmental, political, human rights, economic, democracy, scientific, and social justice issues, etc. We believe this constitutes a 'fair use' of any such copyrighted material as provided for in section 107 of the US Copyright Law. In accordance with Title 17 U. S. C. Section 107, the material on this site is distributed without profit to those who have expressed a prior interest in receiving the included information for research and educational purposes. For more information go to: http://www.law.cornell.edu/uscode/17/107.shtml"