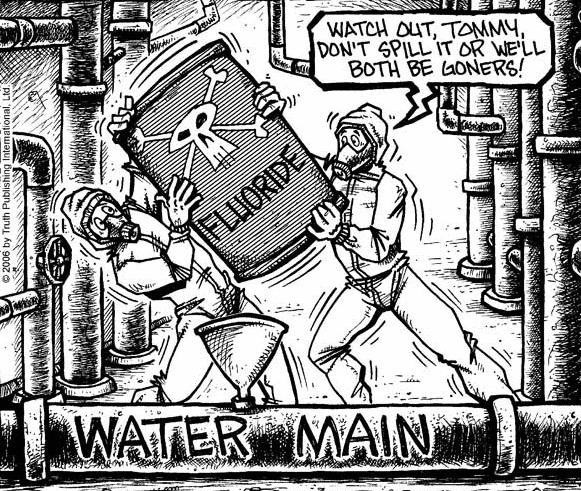 For over 60 years, governments have been adding fluoride to drinking water supplies all over the world. Since then, we've seen a dramatic reduction over time as communities all over the world have come together to stop water fluoridation within their communities. Examples in Europe include Austria, Belgium, Denmark, Finland, France, Germany, Greece, Iceland, 90 percent of the UK, Spain, Scotland, Norway, Switzerland and many more. It's become more obvious everyday that industrial byproducts do not belong in our water.
Just to be clear, we're not talking about the natural element of fluoride here. Over 90 percent of Europe doesn't fluoridate their water. It's not just Europe, other countries like Japan, and communities within Australia and Canada have followed suit as well.
It was thought that small amounts of natural fluoride in drinking water would help with tooth formation, but these claims were always referring to the naturally occurring fluoride, never industrial toxic waste.
Despite being dubbed "one of the top ten public health achievements of the twentieth century," and praised by the U.S. Centers for Disease Control, it's clear that we've been subject to manipulation of truth yet again. The United States has more people drinking fluoridated water than the rest of the world combined. Most industrialized nations do not fluoridate their water.
Water fluoridation started many years ago, when asbestos, PCB's and DDT were all deemed safe. These chemicals have been banned since, when the people woke up, and it seems that water fluoridation will follow the same route. Opposition to water fluoridation has existed since its inception.
"In point of fact, fluoride causes more human cancer deaths than any other chemical. When you have power you don't have to tell the truth. That's a rule that's been working in this world for generations. There are a great many people who don't tell the truth when they are in power in administrative positions. Fluoride amounts to public murder on a grand scale. It is some of the most conclusive scientific and biological evidence that I have come across in my 50 years in the field of cancer research." ~ Dr. Dean Burk, Biochemist, Founder of Biotin, and Former Chief Chemist at the National Cancer Institute of Health.
What Exactly Are We Drinking?
So what exactly are we drinking? The substance added to our drinking water is called hydrofluorosilicic acid. It is a toxic waste substance created from the creation processes of aluminum, fertilizer, steel and nuclear industries. It's not the natural element of fluoride, again, it's industrial toxic waste.
For example, in the Phosphate Mining & Production Industry, much of the hydrofluorosilicic acid occurs from strip-mined rock. The rock is broken up, placed in giant vats where sulfuric acid is also added to get rid of whatever phosphate (and other contaminants) are in the rock. While the phosphate is extracted, the contaminants used to be released into the atmosphere. This was creating more pollution, and killing animal and plant life. (See video below)
Environmental regulations were put in place where pollution control devices were set up in order to capture the contaminants, like arsenic, lead, mercury, silicofluoride and more. Included in the pollution control device is hydrofluorosilicic acid, so toxic that one needs to wear a full body suit and mask to be around it. These contaminants are then taken out of the chimneys (scrubbed off with the acid) and stored in "open-air cooling lakes," which are further exposed to airborne contaminants. (See video below)
"In regard to the use of fluorosilicic acid as a source of fluoride for fluoridation, this agency regards such use as an ideal environmental solution to a long-standing problem. By recovering byproduct fluorosilicic acid from fertilizer manufacturing, water and air pollution are minimized" ~ Rebecca Hanmer, Former Deputy Assistant Administrator For Water, US Environmental Protection Agency
Industrial practices produce millions and millions of gallons of this liquid hazardous waste. Because it costs these corporations thousands and thousands of dollars per ton to neutralize and dispose of (hydrofluorosilicic acid), they instead sell it to the population as a 'product.' How ridiculous is that? Hydrofluorosilicic acid is shipped to your local drinking water supplier.
"If this stuff gets out into the air, it's a pollutant; if it gets into the river, it's a pollutant; if it gets into the lake, it's a pollutant; but if it goes right straight into your drinking water system, it's not a pollutant. That's amazing." ~ Former VP and Senior Chemist at the U.S. Environmental Protection Agency Headquarters
Here is a five minute video by Abby Martin from RT news breaking it down for us. Please read the article and watch the video before commenting. Sometimes many questions and concerns in the comments section are already answered within the article and/or video.
One thing that's become evidently clear within the past few years, is the fact that the majority of people across the world do not want to have fluoride added to the water supply. Most communities around the world have removed it, but many large cities within North America still remain fluoridated. One example is Toronto, where I'm from. We are currently trying our best to remove it, and will continue to do so. Industrial by products do not belong in our water.
Below you can watch our short documentary titled "Fluoride, The Hard To Swallow Truth."
Written by Arjun Walia and published by Collective Evolution ~ February 23, 2014