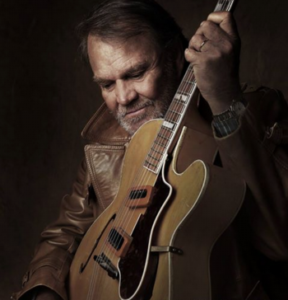 August 9, 2017: Late yesterday we heard of the death of musician, singer and performer, Glen Campbell. Of course I was well aware of his music and career – the good, the bad and the sometimes ugly. I did not go out of my way to listen to him often, yet many years ago I had a LIVE multi-hour concert which he had performed at the Royal Albert Hall in England – and yes – I did enjoy it.
Over the past few years we would hear little updates regarding the progress of his Alzheimers Disease, but what I was not aware of until this very day – is that his final tour was an amazing family journey – as well as a life lesson to all those who have either suffered, or have witnessed the suffering and ultimate death of friends or loved ones. The following two paragraphs have been copied from a documentary film review by Neil Genzlinger written for the New York Times in October of 2014. The film, "Glen Campbell … I'll Be Me," directed by James Keach (brother of actor Stacey) tells of Glen's final journey in front of the audience.
The scenes of politicians urging financing for Alzheimer's research really aren't necessary. The sight of Glen Campbell struggling as a teleprompter feeds him the lyrics to songs everyone in his audience knows by heart is all that is needed to put across what's at stake.
It's a sight that occurs repeatedly in "Glen Campbell … I'll Be Me," a documentary that chronicles Mr. Campbell's final concert tour, which he undertook in 2011, even as Alzheimer's was tightening its hold on his mind.
We dedicate the postings of this date to Glen Campbell as we share several columns which deal with this dreaded dis-ease. We also invite and encourage you to carefully read, study and SHARE our entire category, http://drkelley.net/category/have-you-lost-your-mind/.
…and with glass lifted on high I say,
To Health With You!