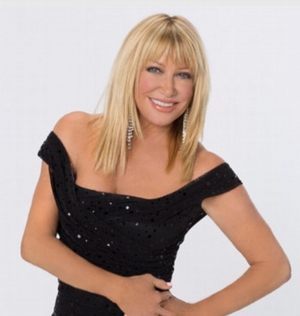 She has had some battles in her 68 years. And Suzanne Somers is not afraid to talk about them.
On Tuesday – the day after she delivered an impressive performance on Dancing With The Stars – the Three's Company actress wrote an emotional post for People.
'I never let cancer beat me,' the survivor wrote in her weekly column. 'Instead I used it to work for me as incentive to do all that I have had to do to achieve peak health again. So putting all those thoughts together got to me [on the show].'
She added, 'The information I have passed on to millions of women in my books comes from a profound passion to bring the most cutting-edge alternative protocols to the forefront showing women and men that there is a new way to age.
'I wanted to show them that if I could do it, they could do it, too. That it's not about your age, it's about the effort you put into your health, and it pays off with energy and vitality.'
Somers was diagnosed with breast cancer in 2001. Suzanne underwent a lumpectomy and radiation treatment. After her surgery, she was very vocal in her decision to forego chemotherapy and decision to use alternative treatments for her recovery plan.
The blonde started off by explaining when she came off as so sensitive on the Monday show.
'I was emotional for a myriad of reasons,' wrote Suzanne.
'First, I felt so good about our dance because Tony and I had worked so hard to get there – my body got a lot of bruises this week – and then to get that tremendous audience reaction made me feel overwhelmed with emotion that it's all been worth it; that all the work I have put into my health and taking good care of myself has paid off.'
She then talked more about her routine.
'The hardest part of the routine was getting over my fear of being thrown through his legs, flipped over and then being pulled back up.
'It took me over a day to trust that I could let go and allow that to happen. Once I trusted that my body would not get damaged, I begin to enjoy it. It was a very free feeling.'
The seventies icon added, 'Once I learned the footwork, I ceased to count and began to dance. It was the first moment since I began this experience that I felt the thrill of really dancing.
'I knew the camera was starting on my butt, so I did my best to shake it for America. Ha ha!'.
A week ago the fitness fanatic told People her 'youthful energy' helped her kick up her heels.
Somers, who is paired with pro Tony Dovolani, said, 'I want all the women my age to see these performances as aspirational – that it's not about your age, it's about your energy.'
The Step By Step actress added, 'I have youthful energy and superb health because of the way I have been taking care of myself.'
Suzanne has written 25 books about staying young.
As far as taking a stab at the show, the comedienne said she is used to performing.
'I am an entertainer who dances, not a trained dancer,' she started.
'When I am in the middle of a dance line of 30-40 in Vegas and I blow a step or two, I go into Lucy, like Lucy Ricardo during the famous challenge routine dance that Ricky created when she wanted to be on his show. Not so on DWTS. If I miss a step, I'm history. Bye everybody!'
But after 40 years in the business she has learned how to take on a challenge.
'I pride myself on being a pro,' the seventies icon said.
Dancing with the Stars airs Mondays 8 p.m. ET on ABC.
Written by Heidi Parker for The Daily Mail March 24, 2015.
FAIR USE NOTICE: This site contains copyrighted material the use of which has not always been specifically authorized by the copyright owner. We are making such material available in our efforts to advance understanding of environmental, political, human rights, economic, democracy, scientific, and social justice issues, etc. We believe this constitutes a 'fair use' of any such copyrighted material as provided for in section 107 of the US Copyright Law. In accordance with Title 17 U. S. C. Section 107, the material on this site is distributed without profit to those who have expressed a prior interest in receiving the included information for research and educational purposes. For more information go to: http://www. law. cornell. edu/uscode/17/107. shtml"