Data showed its arthritis drug might also prevent Alzheimer's 'because it wouldn't have made the pharma giant any money'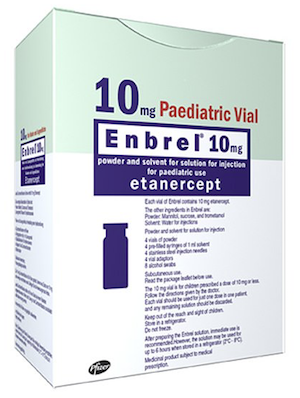 One of the world's biggest drug firms deliberately buried data showing one of its arthritis medications could slash the risk of Alzheimer's.
Pfizer kept its finding under wraps for more than three years because, it claims, it didn't believe the evidence was strong enough.
It found the link between Alzheimer's and the drug Enbrel when analysing medical insurance claims in hundreds of thousands of people in the US.
People taking Enbrel, an anti-inflammatory used to treat rheumatoid arthritis, appeared to be 64 per cent less likely to develop the memory-robbing disorder.
But after years of discussion, the company decided not to reveal what it had found, according to a document seen by the Washington Post.
Experts are sceptical of the firm's reasons not to share its 'strong' data at a time when scientists are deep into a quest to find an Alzheimer's treatment.
One suggested money – and a desire to not let others capitalise – may have been behind the decision because Enbrel's patent had almost run out.
Pfizer told MailOnline this allegation is untrue and its decision not to publish was based 'first and foremost on scientific rationale'.
Researchers working inside the $235billion (£184bn) company reportedly urged bosses to start a clinical trial to delve deeper into what they found in 2015.
This could have involved between 3,000 and 4,000 people, taken four years and cost the firm $80million (£63m), it estimated.
After internal discussions, the New York-based company decided in 2018 not to go ahead with a trial, and not to tell the research community what it had found.
A PowerPoint presentation from a Pfizer meeting the same year, seen by the Post, read: 'Enbrel could potentially safely prevent, treat and slow progression of Alzheimer's disease.'
Defending its decision not to investigate the link further, Pfizer – the maker of Viagra – said it believed the chances of success for a clinical trial were low.
And it added the findings from its insurance claims analysis, which included hundreds of thousands of people, did not meet 'rigorous' scientific standards.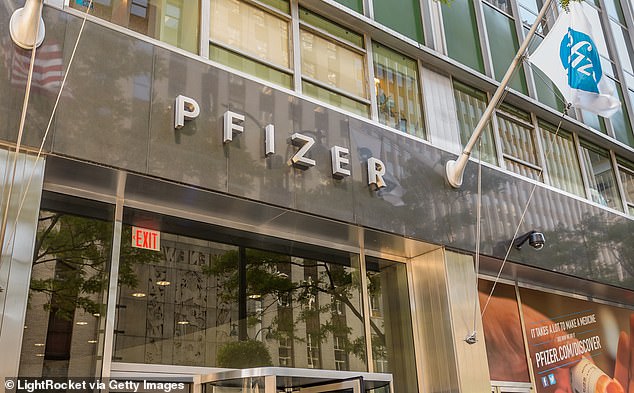 'I find Pfizer's decision really difficult to understand,' Professor Rob Howard, an old-age psychiatry expert at University College London, told MailOnline.

'There's a lot of interest, in Alzheimer's research, in repurposing drugs and if you were to draw up a list of the top 10 with the most interest [Enbrel] would definitely be on there.
'If companies find something like this they've got a responsibility to make it available as soon as possible.
'We're perfectly able to make up our own minds about whether it's nonsense or not.'
Professor Howard said revealing the findings now was not too late but constituted a delay to a research field racing to find a treatment in the face of constant failures.
He added: 'To be fair to drug companies they're not saintly organisations and we have to understand they are commercial entities whose first responsibilities are to their shareholders.
'But without them we wouldn't have new drugs. I think they have a bigger responsibility to science.'
Professor Howard's sentiments were echoed by a medical ethics expert at Brighton and Sussex Medical School.
Professor Bobbie Farsides told the Washington Post: 'Having acquired the knowledge, refusing to disclose it to those who might act upon it hides a potential benefit and thereby wrongs and probably harms those at risk of developing Alzheimer's by impeding research.'
More than half a million people in the UK have Alzheimer's, which is the leading cause of dementia and caused by the progressive death of nerves in the brain.
Enbrel, an anti-inflammatory drug, may be able to reduce someone's risk of the condition or slow it down by limiting damaging swelling in the brain.
However, past research on the effects of different types of anti-inflammatories on Alzheimer's patients have found no evidence to suggest they work.
Pfizer said Enbrel molecules were too large to actually travel into the brain, according to the Washington Post, so its potential was limited.
But one researcher, Professor Clive Holmes of the University of Southampton, suggested market forces were behind Pfizer's decision to keep its discovery hidden.
He told the Post the company would not have wanted to invest in research which its competitors could have used to make money.
The 20-year patent on Enbrel ran out in 2018 and other manufacturers can now make cheaper generic forms of the drug.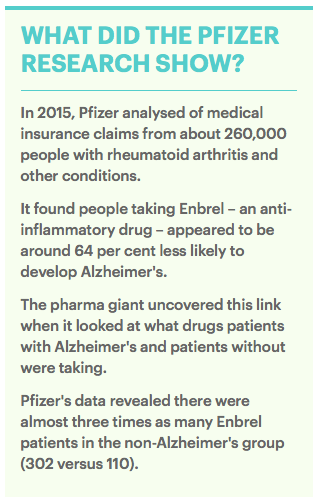 If they had known it could treat Alzheimer's and Pfizer couldn't get a new patent, the profits would had to have been shared across drug companies around the world.
Professor Holmes said: 'Someone can pop up and say, "Look, I've got a me-too drug here". I think that is what this is all about.'
The research which led to the discovery was an analysis of medical insurance claims from about 260,000 people with rheumatoid arthritis and other conditions.
When split into two randomised groups of people with Alzheimer's and people without – 127,000 in each – there were almost three times as many Enbrel patients in the non-Alzheimer's group (302 versus 110).
UCL's Professor Howard described the finding as 'strong'.
Pat Kehoe, a professor of Translational Dementia Research at the University of Bristol, said: 'It is very frustrating that Pfizer chose not to publish this data, which the academic scientific community could have reviewed and, if necessary, carried out our own subsequent peer-reviewed research to test if Enbrel could be a treatment for Alzheimer's disease.
'This seems to be a missed opportunity in providing valuable data to put more pieces of the Alzheimer's jigsaw together and help build the picture we are still seeking.'
The charity Alzheimer's Research UK said drug companies should make findings 'as widely available as possible' as part of their role in developing new therapies.
Director of research, Dr Carol Routledge, said: 'Drug discovery is a complex process and the repurposing of drugs approved for other medical conditions offers a tantalising opportunity to investigate treatments already proven to be safe in people.
'We must leave no stone unturned when it comes to finding a new treatment for dementia and we cannot do this alone.
'Pharmaceutical companies play a crucial role in getting new medicines into the hands of patients and it's important that they operate as openly as possible.
'In cases where their research may seem to come to a dead-end, it's still important that these findings come to light.'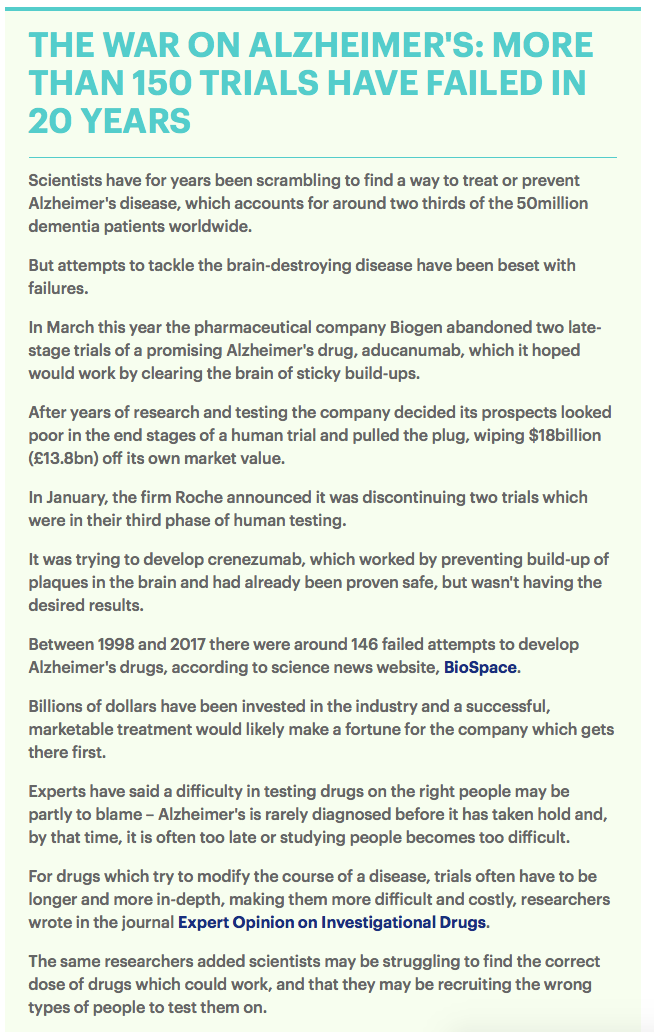 Another charity, the Alzheimer's Society, said it is currently funding research into the prospects of rheumatoid arthritis drugs just like Enbrel.
Its head of research, Dr James Pickett, added: 'Companies have generally committed to sharing results from failed clinical trials, but this is a real insight into how pharmaceuticals make decisions – which often take place behind closed doors.
'This highlights an area where they could do more to share knowledge and data.
'Under our own Drug Discovery programme we are supporting similar work to Pfizer's study to understand the impact of rheumatoid arthritis drugs on the development of dementia.
'We will certainly share these findings in the hope they bring us closer to a treatment that could slow down or even prevent the progression of dementia.'
A spokesperson for Pfizer said: 'Pfizer is aware of the story published in the Washington Post about the potential role of Enbrel in the prevention of Alzheimer's implying that Pfizer has suppressed any promising leads in possibly treating Alzheimer's.
'The story does not accurately portray our approach to science-based decision-making.
'Our decision not to publish a statistical analysis of insurance claims data, and our decision not to pursue a broader clinical trial in Alzheimer's disease based on such statistical analysis were based first and foremost on scientific rationale and not on the basis of financial incentives as the story seems to imply.'

Written by Sam Blanchard, Senior Health Reporter for The Daily Mail ~ June 5, 2019
FAIR USE NOTICE: This site contains copyrighted material the use of which has not always been specifically authorized by the copyright owner. We are making such material available in our efforts to advance understanding of environmental, political, human rights, economic, democracy, scientific, and social justice issues, etc. We believe this constitutes a 'fair use' of any such copyrighted material as provided for in section 107 of the US Copyright Law. In accordance with Title 17 U. S. C. Section 107, the material on this site is distributed without profit to those who have expressed a prior interest in receiving the included information for research and educational purposes. For more information go to: http://www.law.cornell.edu/uscode/17/107.shtml